Yes, I am moving, AGAIN! But this time I hope it's for good. I have big plans for this new year and I hope you will visit me in my new home :)
Audrey
http://moutonbleu.wordpress.com/
Current Mood:

excited
I meet with knitting friends from the North Shore (the region we call the North Shore is to the North of Montreal, which is an Island) every second and fourth Wednesday of the month in a Rosemère café. I suggested visiting
an Alpaca farm
not very far away from where we live, in St-Alexis, to meet with these exotic animals and to learn more about them. The owners were lovely and took us through the barn and answered all our questions about their animals. You can tell they love them and take good care of them. At first, the alpacas were a bit apprehensive and steered clear of us while making soft noises that sounded a bit like whining. Eventually they relaxed and some were willing to eat from our hands or to lay down and relax. I really fell in love with them and found them to be gentle and very soft. Later when I went to my in-laws house and was petting their cocker spaniel I understood why the alpacas had such an effect on me. My favorite girl, Mouf, has the same haircut and big black doe eyes as the alpacas!
The owners are not used to having knitters into their shop. They sell a lot of articles made out of alpaca yarn, but have very little yarn from their own flock, mostly because the owner himself spins his own yarn and although he's made a lot, he's not used to people wanting to buy it. I bought 100 g of loose fiber from one of their females, Sundae, who is a very nice rich amber color, and 200g of handspun yarn (I would think worsted weight) from one of their males Bogart, who was a very nice sandy color. I must say I am impressed with the man's spinning, it's really even and very well balanced. He says he's been spinning for 3 years now. I can't wait to try spinning the fiber. I am thinking of perhaps mixing it with some merino to make it stronger. Also, I would get more yardage out of my 100g if i mix it with something else. I haven't decided yet. Besides, My wheel is busy with the mixing of merino and angora rabbit at the moment. It's taking a long time because I need to hand card the fibers into rolags to spin it. It makes for very even and easy spinning, but the carding process takes longer.
The fair-isle sweater will soon be finished. I had hoped to finish it this week-end, but life happened. I also have two lighter projects on the go; a pair of work socks for R and a scarf for which I will also publish a free pattern. Hint: the pattern will be called "Dobby Scarf".
In other news, I will be scheduling some time off in September. We have found a nice cabin to rent in Trois-Pistole for a few days. It's right on the Saint-Laurence river and we have a nice sandy beach and some rocks to fish from in the front. I haven't made the reservation yet, but I will soon, as soon as we can agree on a date.
Happy knitting, or whatever else you like to do :)
Current Mood:

hungry
The plunge has been taken, the sweater has been undone, re-knit and is about to be put back together again. I sort of feel like Dorothy putting hay back into Scarecrow to make him whole again with this sweater. One thing is for sure, if this works and it's not too apparent that I've had to doctor this sweater, I will definitely have to visit the Wizard of Oz (local wine store) and claim my prize (a nice bottle of cool rosé wine). Here is a picture of what the sweater looked like after being undone: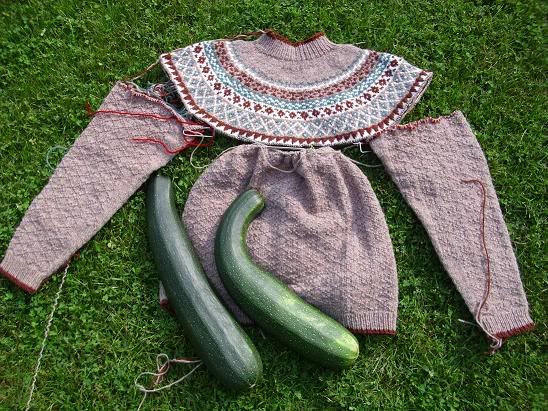 First I had to pass a piece of yarn through the first round before the beginning of the Fair Isle work, then I cut the yarn about 2 rounds below that and unraveled the sweater until the sleeves and body became separated. I put each sleeve and the body on thread or needles and each in turn was unraveled further and re-knit with added stitches to make the underarm roomier. Then they were knit together again onto one circular needle and an added Fair Isle section was knit to give length and width to that first part of the chest and arms. I am now ready to graft the old part of the sweater with the new, as I would for the toe of the sock, to make the sewing seamless. This had better work or else I don't know what I'm going to do. Crying comes to mind.
Now on to the giant zucchinis (courgettes). Aren't they humongous?! I suspected my friend
Alison
had kryptonite in her garden when she presented me with them, but apparently that's what happens when the gardener goes on vacation and it pours all the time she is gone. I gave one to my mother in law, we fried a few slices of ours, and later I baked a delicious chocolate cake with the recipe Alison gave me. I grated the rest of the courgette and put it in the freezer for later desert making. My chocolate cake came out a bit different than A's, but still delicious. I changed some of the ingredients because my sister is allergic to dairy products, not intolerant like me, allergic, so we have to be careful not to kill her with our baking. I used soy milk instead of milk, dairy-free margarine instead of butter and dairy-free chocolate chips (they exist yes).
Also last week-end, we drove south to the little town of Varennes for a "wind" festival. There were lovely kites in the sky, games for children, loud music and many kiosks with art work. I got to meet
Louise
, who is a yarn dyer I've known for a couple of years and have designed patterns for, but never got to meet in person. She was lovely and she had so much yarn to sell, I was literally yarn struck! I only bought two rovings she hand dyed and called pumpkin juice and farfadet (below). I plan to spin them and use them with the yarn I am currently spinning to make a yoke cardigan for myself this winter. It's going to be per-ty!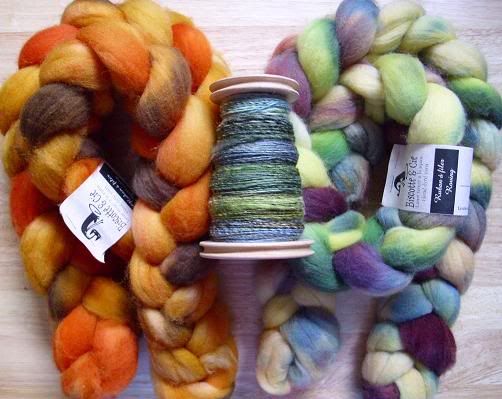 Oh yes! I sold my spindles to my friend
Nathalie
yesterday. I wasn't going to use them anymore, I was sure about it. So I decided to find them a new loving home. Nathalie wants to spin herself some lace weight yarn and they will be perfect for her. Good luck Nat!
Current Mood:

worried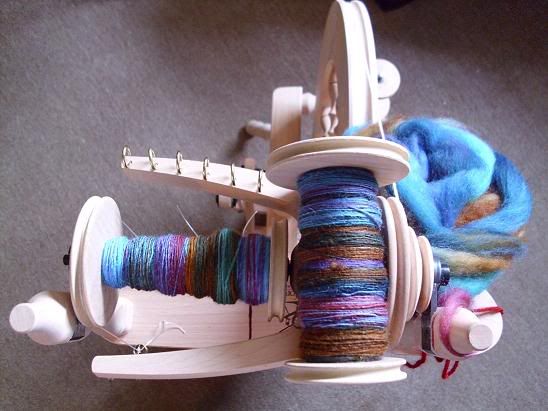 My my! How I love the spinning wheel. I couldn't wait for the stupid rain to stop to assemble my spinning wheel (and people think knitters are patient!) so Wednesday I put it together, all by my myself. I was very proud of my job too, until I started spinning. After ruining about 80g of pink merino top, I decided it was impossible my flyer hooks were supposed to face inwards, because I kept loosing the thread and making a tangled mess on the flyer. I looked at my instructions again and wouldn't you know it, I had installed the hooks on backwards. The pink merino became the waste basket's diner and the next day I tried again, this time using a blue faced Leicester roving in lovely stained glass colors. This time, it worked like a charm. I love it. This week-end if it's nice and sunny outside, the wheel will get one or two coatings of varnish. It will loose it's lovely wooden smell, but it has to be done if I don't want it to warp with time. I'm thinking this yarn will make a nice scarf perhaps, once it is plied.
I don't know what the week-end will hold. I am feeling very tired and am lost in my thoughts these days. I put it down to working too hard and going through one of those "self-questioning" periods. I don't dislike them, but I find it harder to interact with people around me when I feel like this and they notice it. It will pass. Perhaps I can spin this mood away, there's an idea! ;-) We are starting to talk about getting away for a few week-ends in September, perhaps this too will, as we say here, "changer le mal de place" (change the pain's location). We should have a button somewhere on our body to stop the thoughts from running around, a mute button for the brain, just to take a brake once in a while. I am thinking about renting a chalet and R would like to go fish for smelt in Rimouski.... we can do both these things at once. I have some research to do to find the best places to go. Maybe that too will change the color of my thoughts.
I'll throw this out into the universe, maybe someone with influence will hear me: some sunshine would be greatly appreciated this week-end, just a thought!
Current Mood:

pensive
Yesterday my brother invited us to diner and I brought him the sweater I knit for him. He thought it was beautiful, he loved the colors, but when he tried it on, the underarms felt uncomfortable to him, which he says he also experienced with all the Dale of Norway sweaters he ever tried on. This makes me think that the yoke part of the sweater is too short and gets smaller too quickly. It's a good thing I hadn't woven all the ends of yarn in because I have this one less thing to do to fix the sweater now. I've already passed a needle underneath the colored yoke part (the last soft brown round before the start of the color work), and when I work up the courage to fix this (probably after a glass or two of something intoxicating), I will cut the yarn a round or two below the yoke, unravel the part up til the sleeves and body are joined, put the sleeves stitches on a piece of yarn, unravel the body for a few inches, re-knit it adding about 16 increases, rejoin with the sleeves (I may decide to undo those a bit too and add more stitches to them too), with the body again, knit a few rounds with the extra stitches, knit a round or two of decreases in there until I reach the initial number of stitches I had and graft the body and sleeves to the yoke. This should take care of the underarm tightness. I also noticed the collar was too high, so I'm going to undo it and bring it down a little.

If that doesn't work, I'm going to cut the front open (steek), add a button band and make myself a nice cardigan, and re-knit my brother a bigger sweater with the proper yarn weight this time.

This is my own fault, I did use a smaller yarn than what my pattern called for and I'm paying for it now, but it was a learning experience. I fought the knitting and the knitting won! Fool me once, shame on you, fool me twice etc. (add you own cliché here - I deserve them all).

Better get back to work before my eyes fall on the beautiful sweater laying on the sofa and I start to hyperventilate.
Current Mood:

annoyed
Here iz, zee sweator!
Not too shabby, eh?! I was feeling good about my sweater last night, until it became apparent that it was pretty narrow around the chest area. Why had I not noticed this before?! I was feeling a mix of emotions. First I was in denial, then I felt sad, then I felt angry, and then I took the darn thing by the neck and said "Buster, I won't cry over you, I'll make you pay for your lack of yield!" That's the attitude I feel a knitting warrior should always have towards un-cooperating woolen captives. Don't get down, get even! I was prepared to frog the whole thing (that is undo the knitting in non-knitter speak ) and re-knit it, until the sweater gave me a sad little look, all frumped up on the sofa. I decided to give it a second chance. So, without weaving in the ends, I let it relax in a bath of Soak soap and tepid water, then I used the spin cycle of my washing machine to take the water out.

When I spread the sweater out on a towel, it seemed to look better. I stretched the daylights out of it and was able to get a good enough width. I had measured a pullover that my brother likes to wear. It came to 45" for the chest, and I know it fits very loosely on him. I think once dried, this sweater will be 44 to 45" so that is good. Lengthwise, I had measured the body should be 19" from the hem to the underarms... my sweater stretched to 21" - yikes! I will not weave in the ends until L has tried his sweater on. That way, I'll be able to make any necessary adjustments if needed. I can certainly shorten the body if it's too long. My fear now is that the yoke will be too short, or that L won't like the colors or the business of the fair isle design. I know he likes these colors, I know he likes Dale of Norway sweaters, and I know he's not afraid to wear colors, but still, it's hard to design something for someone without them approving the choices you made. My boyfriend would definitely not wear this sweater, but L is a different story. I hope he likes it.

What gets me is that I did knit a swatch, so this measurement anxiety should not have occurred. But swatches are unreliable at the best of times. This pattern made me knit a flat swatch for a work done in the round. I should have been smart about it and knit a swatch in the round. Also, I had taken the time to wash and dry the swatch before measuring it, but even then, a little square of knitting does not behave the same way a heavy sweater does in the wash... why do we even bother knitting them if you can't possibly predict how a finished piece of knitting will look like until it is finished. With swatches you're damned if you do and damned if you don't, in my opinion.

The jury is still out on this project, but I am happy with the overall sweater. I spent a good 6 weeks working on it and it was a fun experience. The fair isle knitting could be better, but as this is my third fair isle project to date, and the largest, I was not expecting perfection. The Briggs and Little Regal yarn I used was lovely and the shade of soft heathered brown is so very nice, I will surely use it again. The bottom to top construction was a first for me and I really enjoyed it. I even threw in a few short rows between the shoulders to make the back ride up a bit and get a better fit, it's also a way to make the front of the sweater more obvious. I was able to use my Alice Starmore's Book of Fair Isle knitting in choosing the designs for the body and sleeves (someone told me it was a King Charles brocade) and for planing the fair isle designs for the yoke. That was so much fun, I can't wait to do it again.

Saturday R is driving me to Ottawa to pick up my spinning wheel, and to visit the city a bit. I'll take pictures and give you an account of our adventures soon. There is a 30% chance of rain in Ottawa on Saturday, so odds are we will have a lovely day.

Take care y'all! :)
Current Mood:

anxious
The title of this post will make sense in a few lines, wait for it.
I have been doing some research concerning my spinning wheel to better understand what sort of treatment I should give the wood pieces before assembling them. At first I only wanted to oil them, but I've since decided against oil because it needs too many coats to be effective and it won't do much to protect the wood against humidity, and goodness knows it's humid here, ask my bones. Also, oil has to be reapplied over time, whereas varnish is a once only job. So, I contacted a few cabinet makers in my area to see how much it would cost to give my wheel a thin coat of varnish. Only one answered his phone. He asked me to e-mail him a picture of my spinning wheel to see what it looked like. He answered this morning. Guess how much?! Three hundred dollars! SAY WHAT?! Is he mad?! I mean, I'm all for paying a professional for his skill, but that's taking it a bit far. I mean, he probably has a spray gun for that sort of work and I'm sure he can spray the pieces in very little time. I'm just going to get a spray can of varnish and do it myself for less than $10 and in one afternoon.
Last night I was a bad girl. I took the car and went to the Friday knit night with my friend A and we came home past midnight. Somebody tie me down, I am out of control ;-) When I came home everyone was in bed and asleep. The Friday knit meeting is at a Montreal yarn store called Effiloché. The shop keeper, Ginette, is a warm and friendly person and her shop is very inviting. There are couches and chairs to sit and knit and the walls are covered with all sorts of wonderful natural fiber yarns, no acrylic there. The shop is located on St-Hubert street, which has covered sidewalks over a few blocks, and is lined with shops of all kinds, but is known of old for it's bridal shops. In fact, my mother bought her wedding dress there for less than twenty dollars in the late 50s (she had very little money, but I think that was expensive back then). A year after the wedding the dress was cut up and sewn into a christening gown for all us children, then lent to a cousin who gave it away to someone else (the nerve of some people), never to be seen again.
This week-end the plaza is closed to traffic and is hosting a sidewalk sale, so people can walk down the street and shop while taking in the sun. The yarn shop had its furniture out on the sidewalk and we sat and knit from there. It was a lot of fun. Many people who walked by stopped to ask questions and left with leaflets containing information on the next knitting and sewing classes.
I only visited two shops while I was there and bought nothing. I did however leave with six balls of Cascade 220 Superwash to knit Roger some hats, mittens and neck warmers for next winter. When he works nights on snow removal, he often comes home to change and take a nap and I like to be able to throw his wet clothes in the dryer before he goes back into the cold. He was used to his mother's acrylic tuques and mittens and hated wearing such articles because it made him itchy and sweaty. I have showed him since how wonderful wool is for cold weather and he never leaves without his woolen gear in the winter now.
BROTHER'S SWEATER NEWS: I have 1 1/3 sleeves done, yay! I hope to be able to finish the second sleeve soon and get started on the fun part of the sweater. Unfortunately, I have work to do this week-end, so I can't spend all day knitting, therefore, the sweater will not be ready on the 14th. It's going to be a belated birthday present.
This week, I also emptied my spindles and plied the yarn they contained. I got these two mini skeins of about 100 yards each. I can"t wait to fill a whole bobin with 100 grams of roving.

Wishing you all a sunny week-end!
Current Mood:

cheerful
There was a castle-wheel.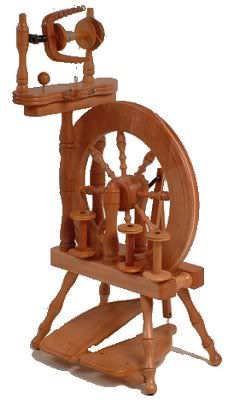 My 38th birthday is coming soon. I thought I should get something I've been stalking on the internet for a long time, as consolation for my present living arrangements which prevent me from welcoming a pet into my home. In a way, this will allow me to pet some fur, but said fur will not ask for the door at all times of the day and night, steal our belongings to hide and chew on them and will not need house training!
When I started spindling, I knew I was in for a fast and furious tumble down the fiber obsession mountain. I'm hoping I've reached the bottom of it now, because I'm not getting sheep next that's for sure... maybe an angora bunny though!
I debated over getting the cheapest wheel I could find or spending a bit more and getting the one that makes me drool. I figured I might as well invest in the one I really fell in love with as we're going to spend a lot of time together. I picked the Ashford Traveller wheel. Mine is going to be
single drive and natural wood. I won't stain it as the one above, but rather just give it a nice wax coating and leave it natural. It's so pretty. I can't wait to sit outside and spin in the sun. I couldn't find a store that sold Ashford wheels locally, so I ordered from an Ottawa store. It's only a two hour drive away and it's such a lovely city, we can survive a day of sight seeing there :) When they receive it they will give me a call and when we have a free week-end, my man is going to drive us there. This store also has some lovely angora rabbit fibers (and angora rabbits), so I suggested to my man to get me some as a birthday present. He never knows what to get me, so I thought I might give him a very definite hint because subtle ones just fly by him ;-)
I feel completely self-indulgent, selfish and wasteful... and HAPPY! Now, I have to see to making some room for this baby somewhere!
In other news, knitting sessions have been short and sweet this week, which means I am still working on the body of my sweater, but I only have about 2 rounds to knit before I can set it aside and start on the sleeves. I am considering knitting both at the same time in magic loop, but I will have to learn how to do it first. I know the magic loop method but I've never knit two things at once with this method. I'm sure I can figure it out with whatever info I can find on the internet. It's supposed to rain this week-end, so I will have to stay in and knit... poor me! ;-)
My next project after Laurent's sweater is going to be finishing my cardigan, and then designing a scarf for fun. T is going to be happy to know this new project is HP inspired and involves fair-isle knitting... this is going to be fun and I'm sure you will want whatever I turn out once it's done. That's all I'm saying about it though, think scarf and Harry Potter. Another clue? This scarf will become all the rage at Hogwarts and I am sure will be banned by school authorities.
To all a lovely week-end!
Current Mood:

ecstatic
Never mind that... here's an update on my knitting!
I have been slacking off on my knitting schedule for the past three days. The main reason is that I have a massive amount of work to do and I'm really tired at night and don't pick up my needles. I suspect that's because the body of the wool sweater I'm knitting is becoming heavy and because it's hot and having something woolen on your lap on a hot night is not exactly fun.
I would hope to have this sweater finished for July 14th, which is my older brother's 51st birthday, but I doubt very much I'll make it. I still have about 4 inches of the body to knit, then I go on to the two sleeves, and then I put it all together and start the fair isle yoke pattern in soft brown, brown, green and cream. I can't wait to get to this fun part, and see if all the fiddling I did with the pattern's gauge and yoke design pays off. I'm pretty sure it will, and I admit I like the thrill of knitting without a net ;-)
So, without further ado, here is a picture or my progress so far: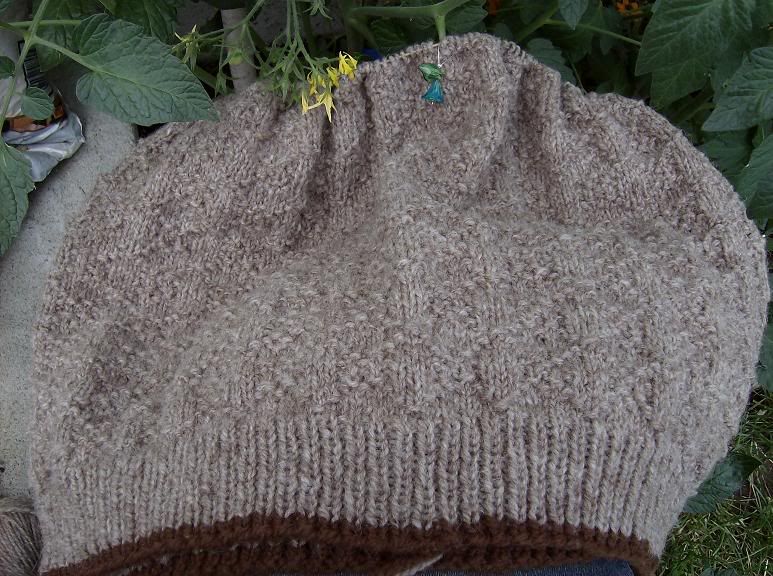 You can't see it very well yet because the knitting is all scrunched up on the needle and the fabric has not been washed and relaxed yet, but there is a nice all over diamonds patter on the body, whici I will also repeat on the arms, up to the yoke. This was not part of the original pattern, but I felt it needed it to keep me sane and attentive. There's nothing worse than round upon round of stockinette stitch, it gets boring quickly.
I picked the colors for this sweater according to my brother's preference. I've never liked brown, but I must say I'm starting to really like it. The heathered pale brown is really lovely, makes me crave cinnamon for some reason. I must admit I never thought I would like brown as a substitute for grey, but it really IS nice.
At the top of the sweater, you can see a beautiful stitch marker made by my friend
Alison
. I really love the way she makes them. Not only are they beautiful, but the wire loop is perfectly snag-free and fits any size of needle. I'm always happy when I come across it and I think it's a great motivator to finish a round. I'm like a greyhound running after a bunny when I use this stitch marker. You can also see one of our tomato plants in the background. We've got buds!!! I so cannot wait to make myself a juicy toasted tomato sandwich fresh from the garden! I'll have to bake a bread especially for it. Yum!
So, that's me. I have to get back to my windmill and do some actual work, goodness konws there's plenty of it. I'm not complaining. I am grateful to be able to work at home and be my own boss, and I am very aware that a lot of people out there have lost their jobs and can't find any, but I must say I miss work-free week-ends. I hope I can have one next week because I'm really starting to show signs of stress. My left eye-lid has been jumpy for over a month. It's really annoying! I best prepare for the storm coming too. It hasn't started raining yet and already the electricity is playing up! Hope it doesn't go out.
I hope you enjoy a lovely week-end :)
Current Mood:

sleepy
Today is Saint-Jean-Baptiste, Québec's national holiday. In honor of this special day, I would like to present to you our symbolic national anthem, a most beautiful song of love and peace, written by poet extraordinaire Gilles Vigneault (and translated very quickly and not so well by me - there is nothing harder to translate than a poem, but you'll get the idea) for you to enjoy. It's the symbolic song that is sung each June 24th at the end of all festivals and shows, because we are not officially a country, but it speaks of the love of what we are and what we hope to be in the future: still ourselves. Interesting fact, Quebeckers do not sing "happy birthday to you" when it's someone's birthday, they sing the refrain of this song and add the person's name. For example: My dear Audrey, it is your turn, to let us speak to you of love" and it feels so good to have a group of people sing to you they love you, I can tell you :)
The time that we take to say : I love you
Is all that remains at the end of our days
The wishes we make, the flowers we plant
That we each harvests within ourselves
In the lovely gardens where time passes

People of the land it is your turn
To let us speak to you of love
People of the land it is your turn
To let us speak to you of love

The time to love each other, the day to say it
Melts like the snow at the touch of Spring
Let us celebrate our joys, celebrate our laughter
Our eyes where our gazes mirror each other
Tomorrow I shall be twenty again

People of the land it is your turn
To let us speak to you of love
People of the land it is your turn
To let us speak to you of love

The stream of days going by, stops today
and becomes a pond where all can see
their love reflecte in its mirror
To all those hearts I wish
there shall be time to live their hopes

People of the land it is your turn
To let us speak to you of love
People of the land it is your turn
To let us speak to you of love


Happy St-Jean to all who celebrate on June 24th!
Current Mood:

bouncy